Pregnant North Dakota woman's boyfriend finally meets baby after her death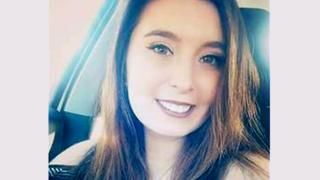 The boyfriend and parents of a pregnant woman whose body was found in a river have been allowed to see the baby they believe to be hers, US media report.
Savanna LaFontaine-Greywind, 22, was eight months pregnant when she went missing on 19 August.
A couple in North Dakota are facing murder charges over allegations they killed Ms LaFontaine-Greywind to claim her baby as their own.
The baby is being held in protective custody pending DNA test results.
"She is beautiful," Ms LaFontaine-Greywind's mother, Norberta, said when she was introduced to the baby for the first time, local news site Valley News Live reports.
Ashton Matheny, Ms LaFontaine-Greywind's boyfriend and the father of her baby, said that visiting the child was "the best feeling" she had ever had, according to a report in the Bismarck Tribune.
"I wish Savanna could have been there to enjoy it with me," Mr Matheny said. "After all these dark days, she lit my day right up."
He said the couple had previously named their child Haisley Jo.
The newborn baby, whom police presume to be Ms LaFontaine-Greywind's daughter, is being cared for by Cass County Social Services until her identity has been established.
Ms LaFontaine-Greywind's body was found by kayakers in Red River on Sunday, wrapped in plastic and trapped by a log, the Minneapolis Star Tribune reported.
It brought to an end an eight-day-long search for the expectant mother and nursing assistant, which included hundreds of volunteers, search dogs, and local, state and federal law enforcement officers.
Her death has been preliminarily ruled a homicide, according to Fargo police.
William Hoehn, 32, and 38-year-old Brooke Crews are in custody.
They told police differing accounts of how they had come to be caring for a healthy two-day-old newborn after Ms LaFontaine-Greywind visited their apartment on the day she went missing.
In interviews with the police, Ms Crews said she had invited Ms LaFontaine-Greywind to her upstairs apartment and told her how to induce childbirth.
Two days later, Ms Crews said, Ms LaFontaine-Greywind returned to the apartment and handed her a baby.
According to the police affidavit, she "admitted she had taken advantage of Savanna Greywind in an attempt to obtain her child and possibly keep the child as her own".
On 24 August, police executed a search warrant on the apartment and discovered the newborn baby.
In subsequent police interviews the couple gave conflicting stories about what happened.
The results of a preliminary autopsy released on Tuesday found Ms LaFontaine-Greywind's cause of death to be "homicidal violence" but did not contain details of how her baby had been delivered.