Rebel Wilson wins large defamation payout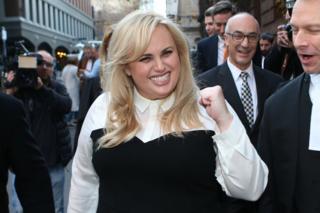 Australian actress Rebel Wilson has won a A$4.5m (£2.7m; $3.6m) payout in a defamation case against a series of magazine articles.
The Supreme Court of Victoria heard the pieces alleged she had lied about her name, age and upbringing in Australia.
In June a jury unanimously sided with Ms Wilson, who had claimed the articles stifled her career in Hollywood.
Bauer Media had denied the articles were defamatory. Ms Wilson has said she will give the payout to charity.
"I had to stand up to a bully, a huge media organisation, Bauer Media, who maliciously took me down in 2015 with a series of grubby and completely false articles," Ms Wilson said after the verdict in June.
Ms Wilson sat in court for every day of the three-week trial and spent six days in the witness box herself.
She claimed that eight articles published by Bauer magazines in 2015 had portrayed her as a serial liar, and that this resulted in her being sacked from two feature films.
Bauer Media had argued the articles were substantially true, trivial, and did not affect Ms Wilson's acting career.
After the six-woman jury ruled against the publisher, Ms Wilson said the case had exposed the "disgusting and disgraceful" conduct of some tabloid media and she looked forward to rebuilding her career.