Takata: Airbag-maker files for bankruptcy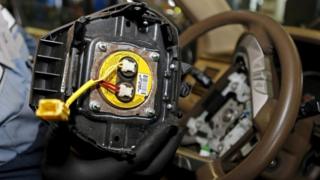 Japanese car parts maker Takata has filed for bankruptcy protection in the US and Japan.
It is facing billions of dollars in liabilities over its defective airbags, which have been linked to at least 17 deaths worldwide.
Some of the airbags contained faulty inflators which expanded with too much force, spraying metal shrapnel.
US-based Key Safety Systems has bought all of Takata's assets, apart from those relating to the airbags.
That deal was announced after the Japanese firm filed for chapter 11 bankruptcy protection in the US, with similar action taken in Japan.
Takeover expected
More than 100 million Takata airbags have been recalled since concerns first emerged in 2007. It is the biggest safety recall in automotive history.
In January, Takata agreed to pay $1bn (£784m) in penalties in the US for concealing dangerous defects, and pleaded guilty to a single criminal charge.
The firm paid a $25m fine, $125m to people injured by the airbags as well as $850m to carmakers that used them.
But it is facing further legal action in the US and liabilities of 1 trillion yen ($9bn).
Trading in Takata shares – which dived last week on anticipation of the bankruptcy move – has been suspended on the Tokyo Stock Exchange.