Trump-Russia: New charges for Paul Manafort and Rick Gates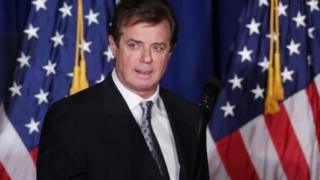 The special counsel investigating claims of Russian political meddling in the US has filed new charges against two former aides to Donald Trump.
Robert Mueller indicted Mr Trump's former campaign chairman Paul Manafort and business associate Rick Gates on multiple counts of tax and bank fraud.
Both were charged in October with conspiracy to launder money.
But there are no charges of collusion with Russia, the main thrust of the Justice Department investigation.
Thursday's additional charges allege that Mr Manafort and Mr Gates conspired to hide more than $30m (£22m) in personal income from tax officials.
According to the 32 new allegations, the two defendants filed tax returns to the US authorities from 2010-14 that they knew to be factually incorrect.