US Navy collision: Remains found in hunt for missing sailors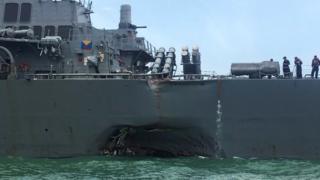 Human remains have been found in the hunt for 10 US sailors missing after their destroyer collided with a tanker near Singapore, the navy says.
The discovery came when divers were sent down to search inside the USS John S McCain, now berthed at Singapore's Changi naval base.
The collision with a Liberian-flagged ship happened before dawn on Monday as the US vessel made a routine port call.
The US has since ordered a worldwide "operational pause" of its navy fleet.
It was the fourth crash involving a US Navy ship in a year, and the second in the past two months.
The collision ripped open the port side of the US vessel, flooding some compartments.
Admiral Scott Swift, commander of the US Pacific Fleet, said divers "were able to locate some remains in those sealed compartments during their search today".
The navy was also examining whether a body found by the Malaysian navy was one of the missing sailors, he said.