US punishes 19 Russians over vote meddling and cyber-attacks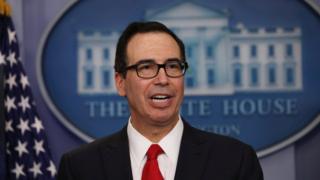 The US has imposed sanctions on 19 Russians, accusing them of interference in the 2016 US election and alleged cyber-attacks.
They include 13 individuals charged last month by Justice Department Special Counsel Robert Mueller.
Treasury Secretary Steven Mnuchin accused the Russians of "destructive cyber-attacks, and intrusions targeting critical infrastructure".
He said the sanctions would target "ongoing nefarious attacks" by Russia.
The measures are being described in Washington as the strongest action taken by the Trump administration thus far against Moscow.
Five entities including Moscow's intelligence services are targeted in Thursday's sanctions.
Also blacklisted is the St Petersburg-based Internet Research Agency, which is accused of engineering an online disinformation campaign to sway the 2016 US presidential election.
Yevgeny Prigozhin – an oligarch who allegedly ran the agency and has close links to Russian President Vladimir Putin – and 12 of the agency's staff are also hit by the sanctions.
All 13 were charged in a February indictment by the US special counsel, who is investigating allegations that Russia meddled in the US vote to help Donald Trump win.
The penalties freeze any assets the individuals and entities may have in the US and prohibits American citizens from conducting business with them.
The US treasury secretary said there would be additional sanctions to hold Russian "officials and oligarchs accountable for their destabilising activities".
He did not specify when these penalties would be imposed, but stated they would sever the individuals' access to the US financial system.
Russian Deputy Foreign Minister Sergei Ryabkov said Moscow was calm about the new sanctions, according to Interfax news agency.
Mr Ryabkov said Moscow had already begun drawing up retaliatory measures.
At the White House, where he is hosting Irish Prime Minister Leo Varadkar, President Trump agreed with British, French and German allegations that the Kremlin was behind the poisoning of a former spy in southern England.
The UK has blamed Russia for the attack and is expelling 23 of its diplomats, but Moscow denies all involvement.
"It certainly looks like the Russians were behind it," said Mr Trump, "and we're taking it very seriously."