Viktoria Marinova: 'Man held' in Bulgarian journalist killing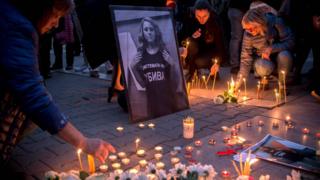 A suspect has been detained over the killing of Bulgarian journalist Viktoria Marinova, reports say.
Viktoria Marinova's body was found in a park in the northern city of Ruse, near the River Danube, on Saturday. She had also been raped.
Media reports say the man is a Romanian citizen with a Moldovan passport.
On Monday hundreds of mourners held vigils around Bulgaria, said to be the worst country in the European Union for press freedom.
Ruse regional prosecutor Georgy Georgiev said Ms Marinova had suffered blows to the head and was suffocated in the fatal attack, adding that her "mobile phone, car keys, glasses and part of her clothes were missing".
It is not known if the killing is linked to Ms Marinova's work at a local TV station.
The Interior Ministry has not confirmed or denied the arrest but may issue a statement later on Tuesday.
The 30-year-old worked as a presenter on a current affairs talk programme called Detector.
Its first episode featured an interview with two Bulgarian investigative journalists exploring alleged fraud involving EU funds linked to businessmen and politicians. The pair, Attila Biro and Dimitar Stoyanov, were arrested in September while looking into the case.
AP news agency quoted prosecutors as saying on Monday that they had opened an investigation into the alleged fraud.
Ms Marinova is the third high-profile journalist to be murdered in the EU in the past year, and the fourth since the start of 2017.
Swedish reporter Kim Wall was killed by Danish inventor Peter Madsen after boarding his homemade submarine to do an interview in Copenhagen in August 2017.
In October 2017, Maltese journalist Daphne Caruana Galizia was killed by a car bomb near her home, while in February this year Slovakian journalist Jan Kuciak and his fiancée Martina Kusnirova were shot dead.
Both Ms Caruana Galizia and Mr Kuciak were known for their work exposing corruption.
Bulgaria is considered the worst country in the EU when it comes to press freedom, according to Reporters Without Borders.
The organisation says investigative journalists in the country are often subjected to pressure, "from mere warnings to intimidation and physical assaults on themselves or their property".
The European Commission has called for a "swift and thorough investigation" into Ms Marinova's killing.